Introduction
The RIPE NCC operates k.root-servers.net, one of the 13 Internet root name servers. The K-root service is provided by a set of distributed nodes using IPv4 and IPv6 anycast. Each node announces prefixes from 193.0.14.0/23 in AS25152. Additionally, some nodes announce prefixes from 2001:7fd::/32 in AS25152. A K-root node consists of a cluster of server machines running the NSD name server software.
Information
We have completed the initial deployment phase of K-root servers and will study the effects of the local nodes on the general performance of K-root before considering new applications. We will publish our findings on this site and announce any new deployment plans.
You can contact us at <
dns@ripe.net
>.
RIPE NCC and the DNS Root Server System
The RIPE NCC provides DNS root name service for the Internet at the k.root-servers.net service address. We have provided this service reliably since 1997, at our members' expense and for the benefit of the Internet as a whole. The RIPE NCC is a not-for-profit membership association under Dutch law. It is governed by its general assembly and Executive Board, and is guided by the RIPE community.

The RIPE NCC recognises that a single, unique DNS root is vital to the stable operations of the Internet and to ensure global reachability. We fully share the views expressed by the Internet Architecture Board in RFC 2826.

ICANN establishes global consensus about the content of the root zone, compiles and maintains it, and makes it available to the RIPE NCC and other DNS root name server operators, all in accordance with its governance processes. Through k.root-servers.net, the RIPE NCC publishes the DNS root zone to Internet users in a non-discriminatory fashion, following the relevant technical standards and best practises, and in accordance with RIPE NCC governance processes.

A briefing on the general operation of the DNS root server system is available at:
DNS Root Name Servers Explained For Non-Experts, Daniel Karrenberg.
Operational Status
All instances are running normal operations.
Locations
Click on a node for more information
Local Nodes:
Abu Dhabi, AE • Brisbane, AU • Budapest, HU • Geneva, CH • Delhi, IN • Doha, QA • Helsinki, FI •
Athens, GR • Milan, IT • Novosibirsk, RU • Poznan, PL • Reykjavik, IS •

Statistics
RSSAC 002 Metrics
ICANN's Root Server System Advisory Committee (RSSAC) has published a document,
RSSAC002
, that requests root name server operators to collect and publish certain key metrics about the root name server system. K-root's statistics are available at the following address:
https://www-static.ripe.net/dynamic/rssac002-metrics/
DSC Graphs
These graphs show the query rate at K-root. The first graph shows the rate across all K-root nodes. The next two are grouped into "global" and "local", which are the two different types of K-root nodes. Click on a graph for more details.
All Nodes (global and local combined)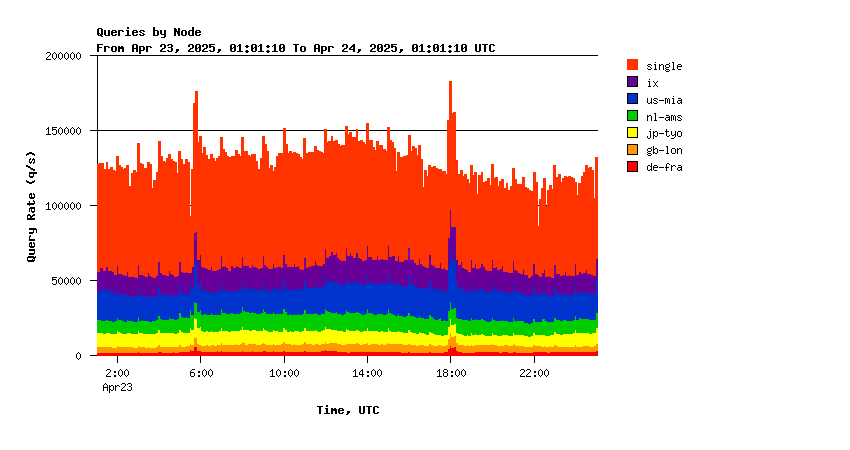 Global Nodes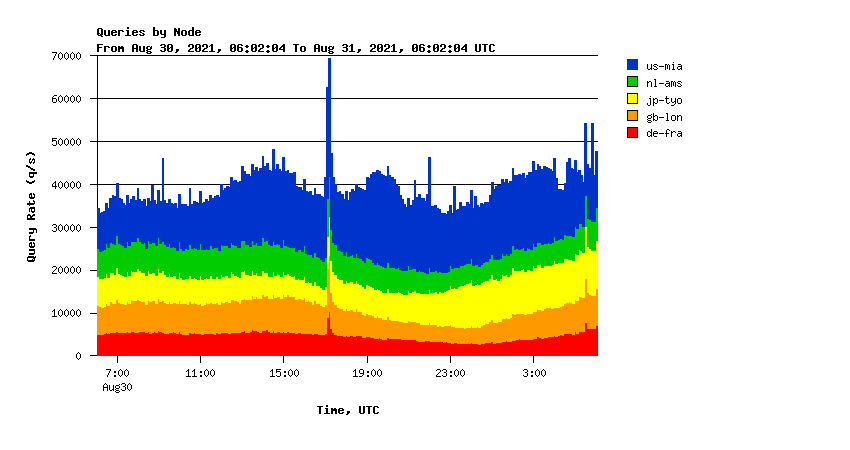 Local Nodes
To see statistics for a particular K-root node you should follow the appropriate link on the above map.
All statistics are subject to a four-hour delay before being published on this site.